By TLex The Avenger Seawolf gets a bit of an update. When I say update - Breitling have totally revamped the dial with new military stenciled Arabic markers allowing for lost more lume, finally giving the ASW the lume job that it has always been lacking. However the 3000m watch case that is the benchmark that other aspiring deep divers measure themselves against is now constructed from Stainless steel rather than Titanium. So perhaps, a step backwards rather than forwards?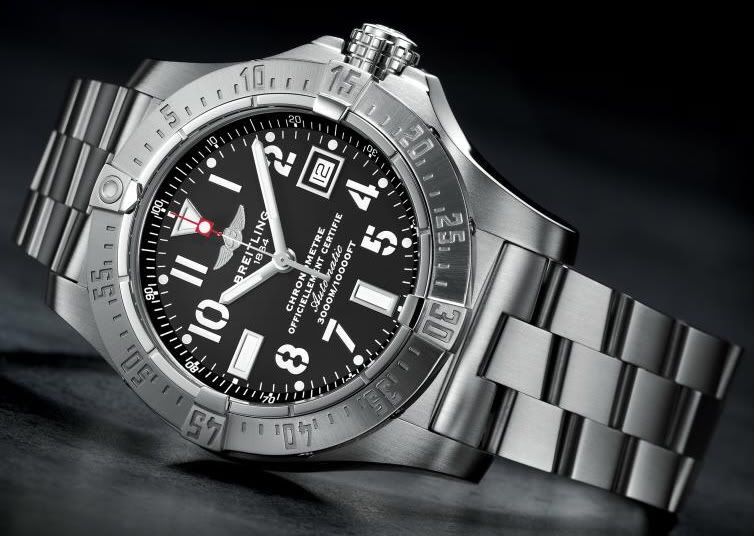 From BREITLING With the Avenger Seawolf, Breitling has accomplished a major technical feat by producing a professional diver's watch that is water resistant to 3,000 meters (10,000 ft/300 bars). Built on the sturdy Avenger platform, the Seawolf is also a functional success, since its dimensions have been kept very reasonable and offer perfect ergonomics, despite the technical constraints imposed by the need to withstand pressures of 300 bars.
To achieve this, Breitling used numerical simulations to develop a perfect geometry for the case. The Seawolf also has a safety valve enabling it to balance the differences in pressure inside and outside the case. As soon as internal overpressure reaches approximately 3 bars, the valve automatically evacuates the helium built up during prolonged stays at great depths and thus avoids the case exploding.
Movement Auto Breitling Cal. 17 / 25 jewels / C.O.S.C certified
Case 44mm Stainless steel case
Glass Double AR-coated sapphire crystal
Water-resistance 3000m / 10000ft
Dials Colors Black, blue, yellow or titanium gray.
Strap Stainless bracelet, rubber divers pro.